Welcome to Winnellie Shopping Centre, your go-to local shopping destination in the heart of your community! 347 Stuart Highway Winnellie NT 0820 (HOURS)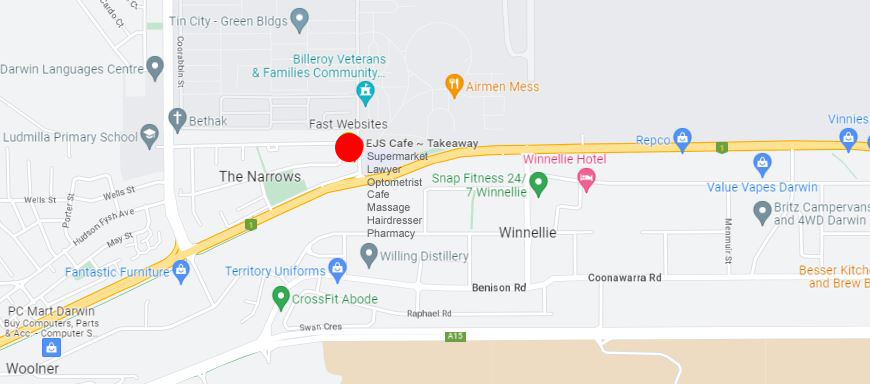 At our shopping centre, we have everything you need to meet your everyday requirements. Whether it's fresh groceries, healthcare services, personal grooming services or legal advice you seek – our shopping centre has it all under one roof.
Our local supermarket is the ideal stop for fresh produce, meats and everyday essentials. With a wide range of items at competitive prices, you're sure to find what you need for your next meal at their counter.
We have an optometrist and compounding pharmacy on-site for all your healthcare requirements. Our knowledgeable professionals are committed to providing personalized and comprehensive services to keep you and your family healthy.
For those needing some pampering and relaxation, our massage shop and hairdresser offer a selection of services to make you look and feel your best.
Looking for a great place to eat? Look no further than EJs Café! Our delicious menu and cosy atmosphere make us the perfect spot for any meal. Come visit us today!
Finally, our family lawyer is available to offer legal guidance and support. Whether you require assistance with family law matters or other pressing legal concerns, our knowledgeable staff is ready to help.
Cash and Crypto ATM
At Winnellie Shopping Centre, we strive to create a secure and welcoming atmosphere for all our customers with ample parking and easy access. Visit us today and discover why Winnellie Shopping Centre is your one-stop shopping destination in the heart of your community!
---